multiples
100
These 100 pieces are a kind of diary for the first hundred days of working in my new studio. Every day I chose a new colour - all after the mood I was in.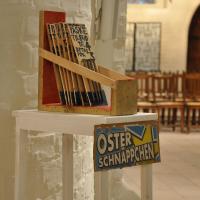 paasketilbud (easter offer)
My inspiration were the business world's selling tricks. So I made my contribution. Almost everyone suggests a deeper meaning. You have to tell it to me, I'm just selling...
holy holy holy
In a time of deep despair I spent weeks sitting on the ground in sunshine and rain, moulding concrete and forgetting everything around me. After some time these concrete pieces came to me as from another world.